LA and Dallas Pride Festival Activations
Displaying Toyota's Commitment to Diversity
Sin City Shootout began in 2007 as a softball tournament and in recent years, has grown to include 24 sports and nearly 9,000 participants. The games are held each year in Las Vegas over several days at sporting venues across the city.
As the first-ever presenting sponsor, Toyota Financial Services negotiated and secured a range of benefits with category exclusivity. The extensive brand presence included branding on hotel keys, elevator doors, casino floor tables, dealer shirts, program ads, and more. In addition to assisting fulfillment of these benefits, Ryan introduced the first-ever TFS Snapchat geofilter, led a social media contest, and managed event activations.
First-Ever TFS Snapchat Geofilter and Contest
To expand engagement beyond the event activations – and even beyond the roaming FotoZap photography – a Snapchat geofilter was available at competitions and every social event.
A first for a TFS sponsorship/activation.
Put content-creation in the hands of participants, rather than only from TFS representatives.
Anybody could use the geofilter. To win, the user had to post their Snap to Twitter, Instagram, or Facebook using #LoveDrives.
First- through third-place prizes were a pair of Snapchat Spectacles -- glasses that Bluetooth-sync to the user's phone to take first-person 10-second videos for Snapchat.
Grand Prize included the Spectacles, PLUS a 3-night stay in a Tropicana Club Suite, dinner for two in Biscayne or Bacio, and Laugh Factory tickets for two (provided by Tropicana Las Vegas).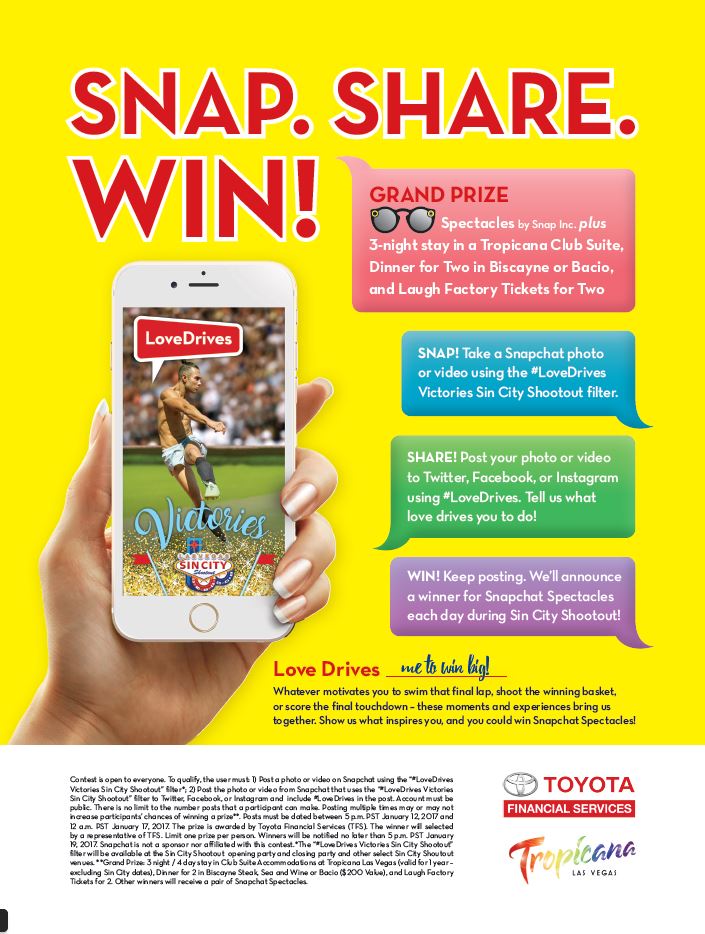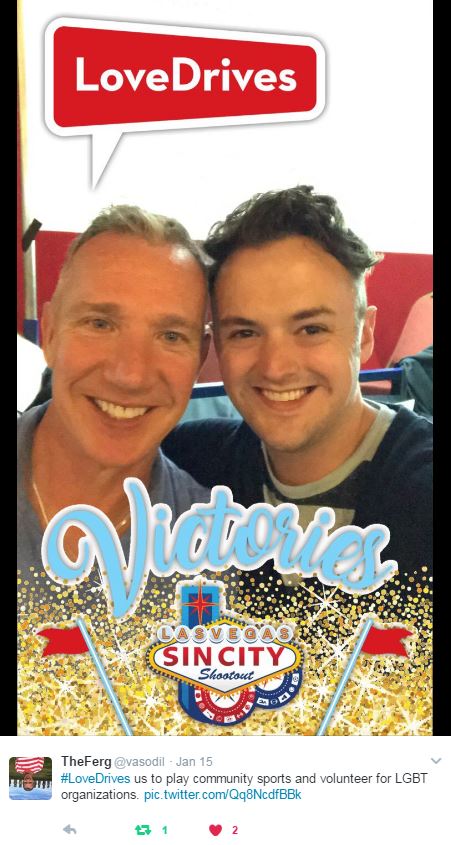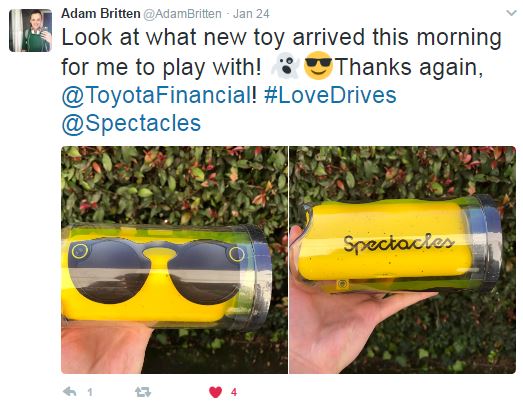 Activation at Athlete Registration Event
Check-Out a Pair of Snapchat Spectacles
Spectacles were available for check-out at the Registration Event to promote the contest.
Green Screen Photo Station with #LoveDrives Whiteboards
The #LoveDrives word balloon was thematically carried through to the green screen photo station -- a tangible, engaging approach that allowed guests to actively participate in the campaign. The boards were laminated to be dry-erase, and guests used dry-erase markers to fill in the blank: Love Drives ____ . Four different background options were available.
2018 Toyota 86 Vehicle Display with iPad Display
The all-new Toyota 86 was on display, with a floor-stand iPad displaying vehicle info and photos, replacing a traditional wheel stand display. This highlighted TFS as innovative and tech-savvy, kept guests at the activation longer, and also saved long-term costs of repeatedly renting a wheel stand and printing info for each event.
Roaming Social Media Photography
FotoZap app was used to take over 550 photos of athletes and participants, both at social events and at many of the competitions.
Photos were texted or emailed to guests.
Photos could be easily downloaded and shared to social media sites with prepopulated copy and #LoveDrives hashtag.
These photos – as well as all TFS-branded photos from the green screen photo booths – were posted to the Sin City Shootout Facebook page, which has over 13,000 likes (as of 3/1/17).
#LoveDrives Social Report
#LoveDrives stats across Twitter, Instagram, and Facebook from Jan. 11-18, 2017:
1,113,689 Impressions
765,365 Reach
431 Posts
266 Users